Apartments in Reval (Poland) at the beach with view of the sea
Raval Apartments are a part of exclusive apartments which came into the existence by connecting modernity with history. The name Raval stands for the historical and relaxational name of the city Rewal, which was placed on the Great Map of Duchy of Pomerania from 1618.
The map was ordered by Philip II, Duke of Pomerania who was a great lover of art and traveler.
Choose an apartment
View Our apartments
Apartments are located in the brand-new Apartamenty Klifowa complex, with the distance as short as only 10m to the beach and 330m to the city center. To provide the best possible comfort our apartments are included in the gated community. Each building was equipped with an elevator. Our guests are given the access to costless parking and are able to use sun decks and spa tube located inside the estate.
All apartments have been designed to meet the highest standards of function and modern luxury.
Our apartments:
Find out More about apartments
Six furnished apartments are available at your disposal. Each of them with the convenient location. We offer:
Direct access to the beach

Sunny rooms

View of the sea

Balcony/sun deck

Short distance to the city center

Short distance to the city center

High standard of homeware

Elevator in each of the buildings

Gated community

WiFi access

Spa tub on the roof of the building
Check Attractions in the area
Attraction
Avenue of Roses and Avenue of lovers in Rewal (EN)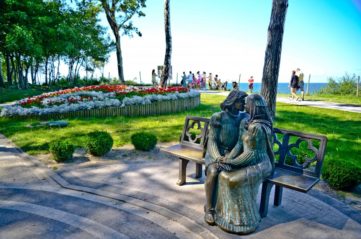 Event
Booking Awards in 2022